HBSU has added the D9 Clube to its growing list of great products and Services. Why? Because it pays like nobody else pays. Read on to see why the D9 Clube is setting people financially free.

Have you heard of the D9 Clube of Entrepreneurs? If not, you are in for a treat. I found the D9 Clube back in April and have been loving it ever since. Let me tell you more about it, and why you should consider joining today.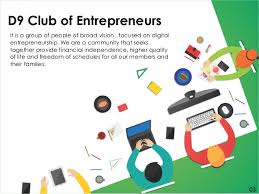 D9 is an international sports trading clube, but you don't have to be a sports trader to join.It was founded by Danilo Santana, an entrepreneur and sports trader from Brazil. Danilo became an expert in sports trading and built a fortune doing it. He decided to start the D9 Clube for anyone who was interested in learning how to trade or for normal everyday people who want a way to make additional income. It is easy to join and even easier to make money. All trading within the clube is done with Bitcoin, so there's also the lucrative element of crypto-currencies and their huge growth right now.
There are a half dozen different ways to make money once you are a member of this exciting clube.

D9 is network marketing company, but you don't have to build a team or recruit anybody to join and begin making money right away. This is the true residual beauty of The D9 Clube. You can buy a position in the club and you start getting paid the following Monday.
You can start with D9 Clube for just $50 and use software to learn how to do daily sports trading, or buy a trader package, which includes weekly bonus money to use in sports trading, but that is optional. You don't have to do any sports trading. The most common and the preferred position to buy, is the Start+Trader Gold+ position, which costs $2046 (plus a $3 transaction fee). Once you have joined as a gold plus trader, the following Monday you get paid a $170 bonus. And this bonus is paid to you every Monday like clock-work, for 52 weeks. Do the math: 52 x 170 = $8,840 paid to you for a one time purchase of $2049.00. This is a huge and passive return on your money, and there is NO LIMIT to how many Gold+ positions you can buy.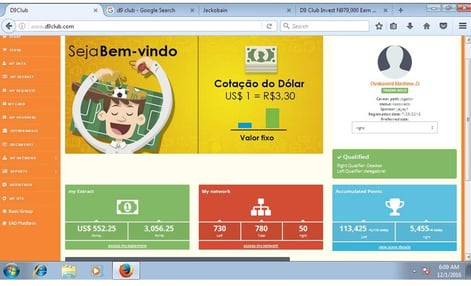 I love Mondays... why? Because I get paid bonus money each and every Monday. Isn't that cool? The passive income is great, but the true power of The D9 Clube, as it is with most network marketing companies, is in building a hungry team. (again you don't have to build a team to collect the weekly residual bonus) The D9 Clube pays you 6 additional ways as you build your organization. I won't go in to all those hear, but believe me, it is very nice to see all those additional commissions every week as my team grows. As in most binary systems, there is a cap on how much you can earn in the system, but it is $30k a day or $900K a month. I am quite content with that limit, if and when I ever reach it.
I am truly excited about what The D9 Clube is doing for my business, and it can do it for you too. If you'd like to learn more about joining us at HBSU and the D9 Clube, just click the button below to gather more information. Or just call me at 978-935-0373.
---